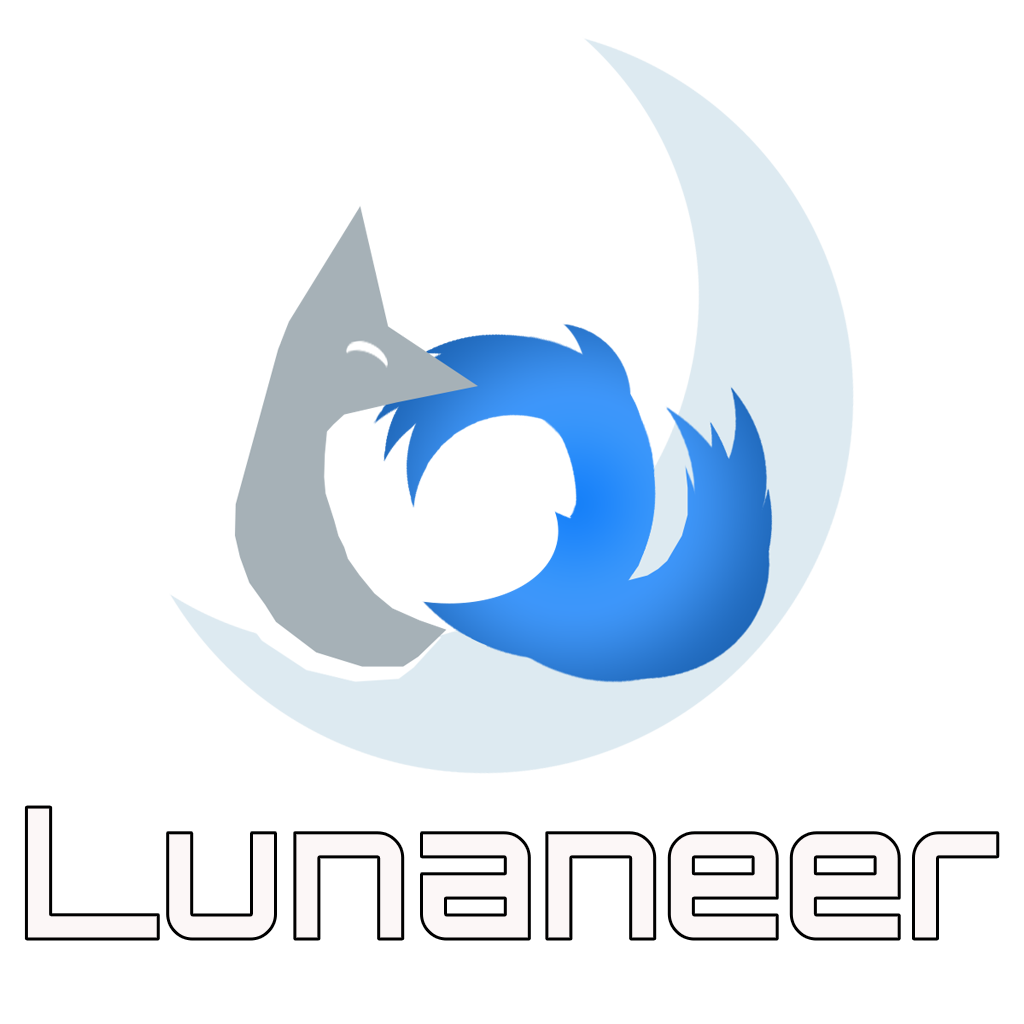 Hello, I want to make this post for anyone that is interested in joining an alliance. I want to make this short and sweet! It's summer again, and you know what that means for many people!
For the most part, you can find how we operate here: Lunaneer, A1RPG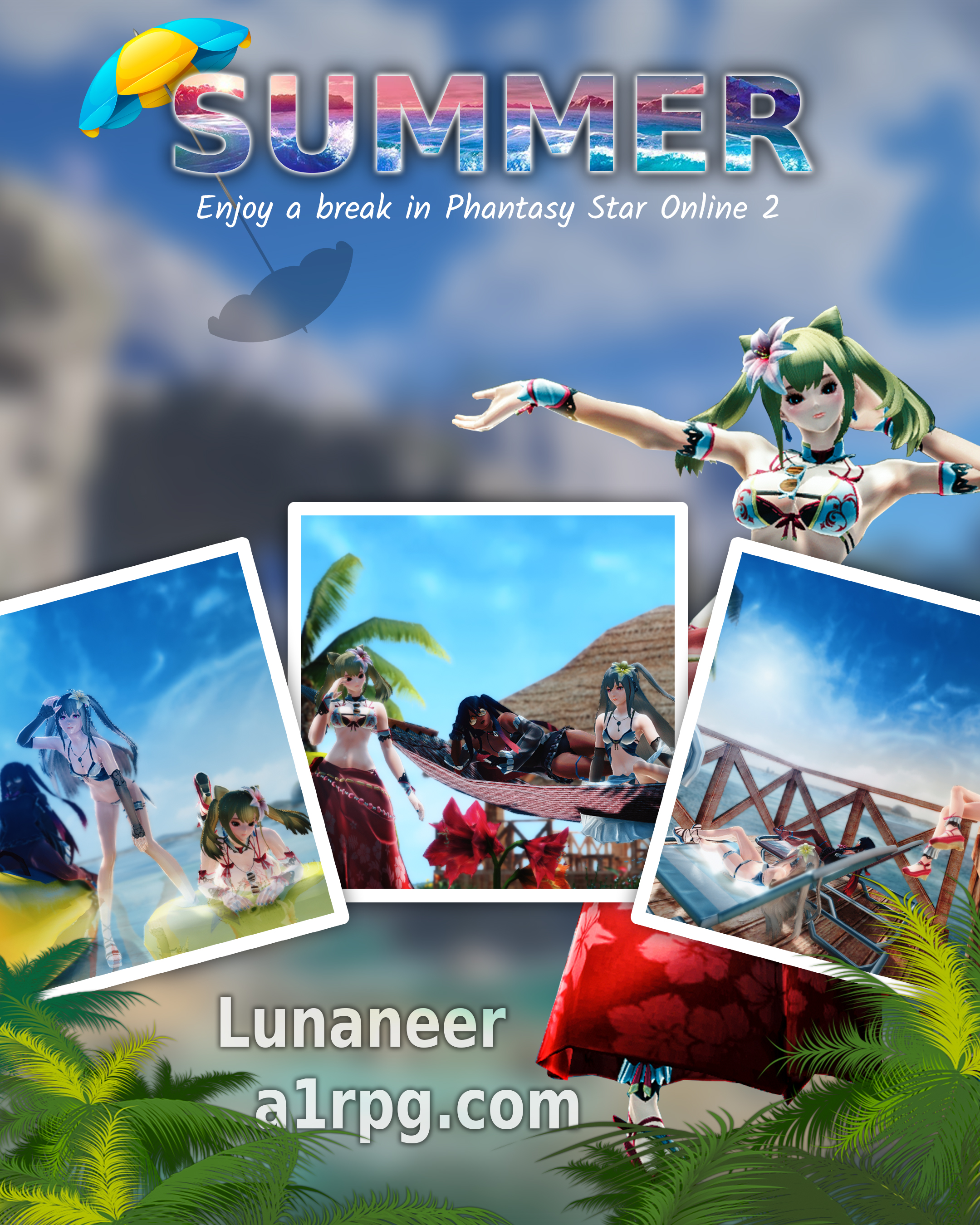 Lunaneer comes from two words combined together: luna as in the moon or beyond the stars in Italian, and 'neer' from pioneer/engineer! Our motto is; Pioneers of gaming going to the moon!!
Here is some TL;DR:
Alliance Name: Lunaneer
Alliance Type: Semi-Hardcore/Chill
Inception Date: May 30, 2020
Activity Peak on Discord: 32
Activity Peak in-game: ~50
Server: Ship 1, Global
Current Timezones: PDT, CST, EST; mostly U.S. players, a few all-around

Website: Lunaneer, NGS Page
Discord: Lunaneer's A1RPG, Discord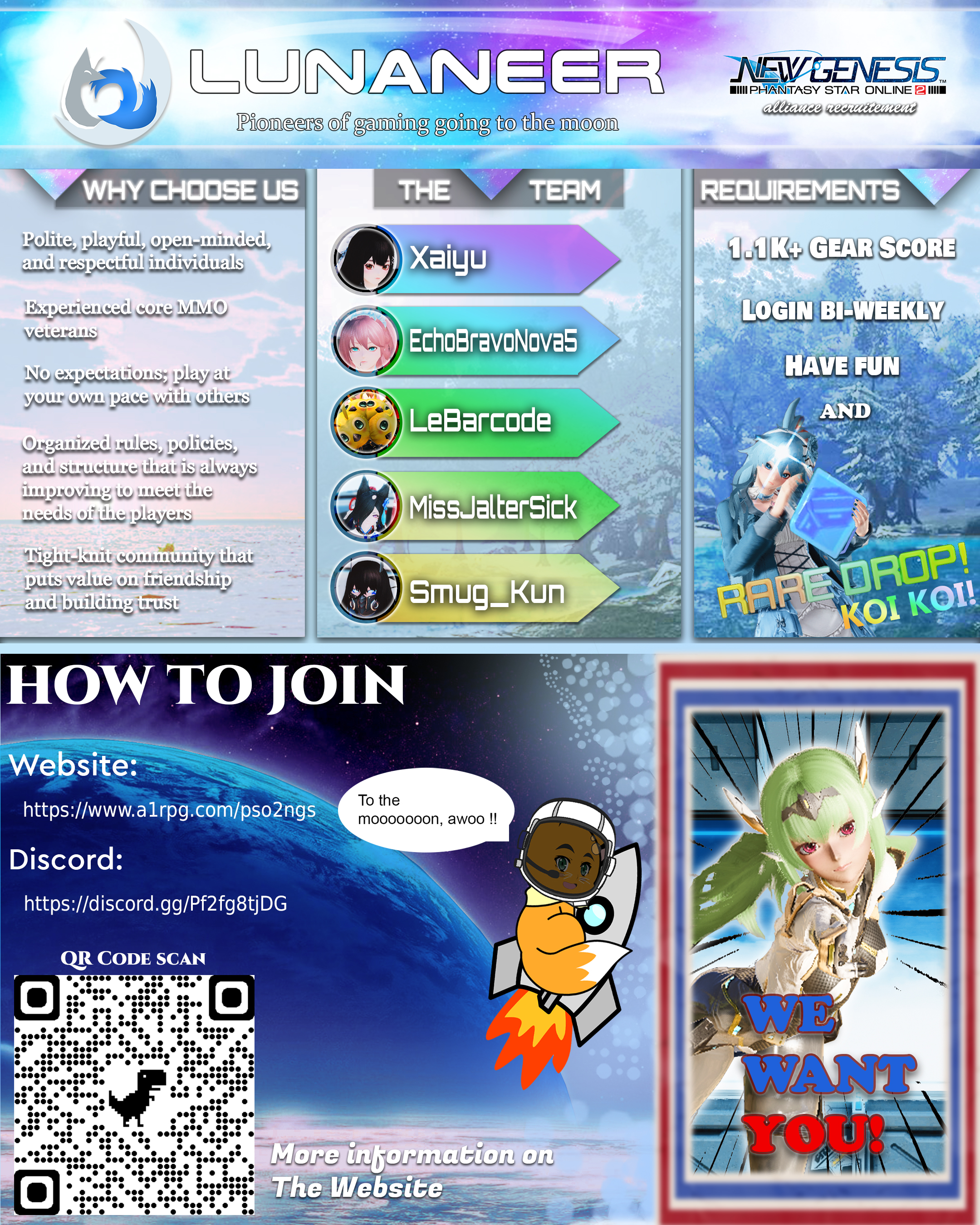 Well, some quick history on our alliance! Personally, I have joined and checked out other alliances, but of course, there isn't a perfect fit-all solution for most people, so from scratch, the core team in our alliance and I, are people that have stuck together since the inception of Phantasy Star Online 2! However, that doesn't mean we don't want to find more people... We are always looking for people that are active, open-minded, respectful, and probably have some interest in other games, anime, and just a little bit of memes. Our core team is also comprised of people that have also led their own guild, and they are helpful in maintaining alliance structure and helping out players.
Before we continue, one thing I want to stress is, our alliance does not aim to be number 1 or be the very best in the server; so if you are looking to expend energy into a very hardcore alliance, grinding 24/7 (we grind, but not an unhealthy amount), or love competitive banter/drama, Lunaneer is not for you.
Let's get right into the statistics and activity and what we have to offer now!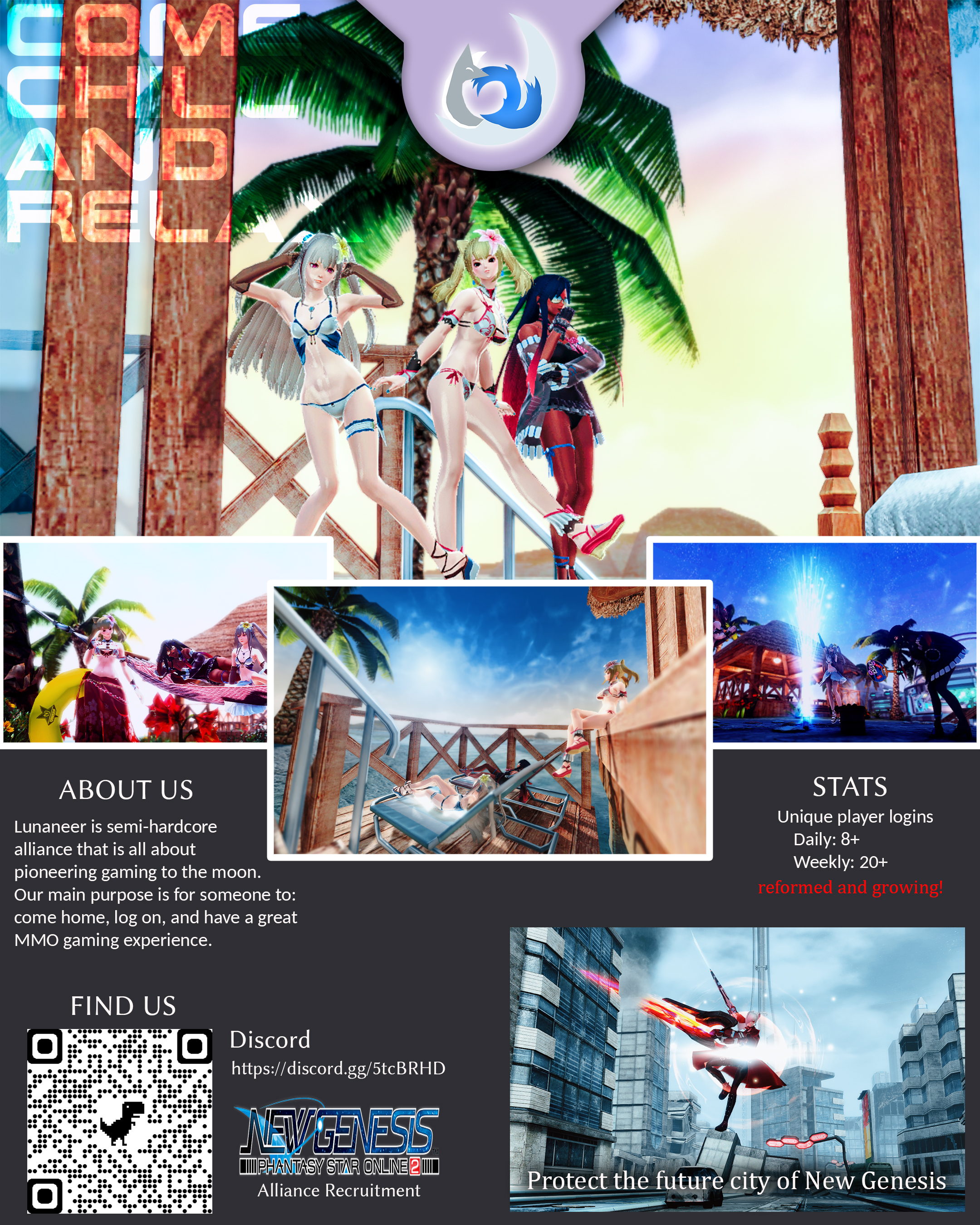 We have an active Discord with our own dedicated custom programmed bot that is used for various things anyone wants or suggests. We also have a website, made using the React framework. As for activity, back in the days, our peak active members on Discord was 32, but in-game it was around 50. Of course, people move on and that's understandable; we would like to find more active people to play with, and a good healthy count for tackling content that we would like to achieve is around 32 active players concurrently. As for current activity, we are awaiting a comeback of most current members, but also seeking new members that can mesh with our current purpose and goal.
Our goals for PSO2 are mostly fashion-related and tackling end-game content as a bi-product. As of now, the community we have so far is mostly semi-hardcore and laidback. If that sounds like a good fit for you, then hit up an Officer or fill out an application and wait. If you are just looking to play/join for clout, drama, be troublesome, or alliance hop because of boredom, we encourage you to not apply at all.
Now here are some important things to know: You can find more about our structure here: Lunaneer, NGS Page
We conduct interviews. There is no other way to gauge a person's personality and intentions without an interview, so if you cannot handle a short interview where you are asked a few questions, don't even bother.
If you are a pretty busy person or introverted but are interested, you can still apply if you are looking for people to do hard content with.
If you are a computer science or computer engineer person or work in the tech industry, you would be greatly appreciated if you want to help build things and whatnot! You don't have to, but I think it's fun.
We will try to do events/giveaways, we have done so in the past, but that shouldn't be the main reason why you join an alliance. Some that we have had are; memes for prizes, fashion contests for prizes, God gear for the activity.
Although we insist joining Discord as a must when being accepted to our alliance/team, if you really don't want to use Discord, just let an Officer or I know in advance.
Finally, I know this may come off as a serious and hardcore post, but I have fun doing things this way, and I do not expect anything from any members of our alliance in return.
Yours truly,
Xaiyeon, Alliance Leader of Lunaneer
P.S Enjoy! Good luck and have fun, see you in New Genesis!